Mashup German - Back To Future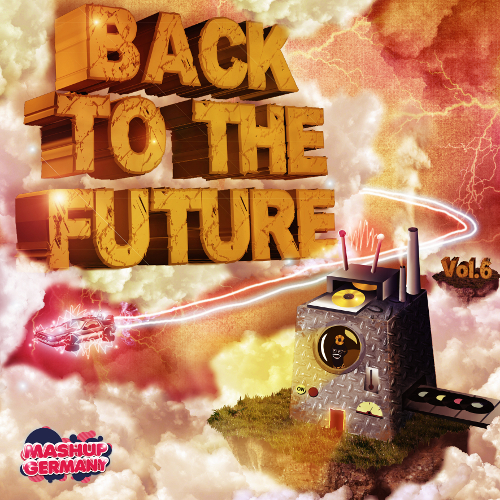 Es ist schon einige Wochen her als Mashup Germany sein Album veröffentlichte. Wir befassen uns damit jetzt ausführlich mit dem gesamten Album. Wie das Album schon sagt "Back To Future"sind enorm viele Songs aus den 90ern und von heute dabei. Der deutsche hat auch noch seine Promotion Mix veröffentlicht. Dieser befasst sich noch mehr mit der Vergangenheit. Fast zwei Stunden hochqualitativer Remix! Boom!
Lade dir das Album hier gratis runter!
---
Mashup Germany released his new album. It's online and for free. Now we attend to stuy the album. How the name "Back To Future" says there are songs from the 90ies and of today.Enjoy the album and don't be afraid of some german voices in the song. Now he released also a Promotion Mix. This one is more focused on the past. Almost two houres of high quality mashup sounds. Boom!
Download the album here for free!
Promotion Mix:
Tracklist:
Mashup-Germany – Back to the future Intro
DJ Morgoth – Internet RemmiDemmi (Sample from Knife Party Internet Friends)
MSTRKRFT – A-Team (Face Remix)
Mashup-Germany – Party Rock Anthem 2.0
DJ Schmolli – Sexy Eye Blur (Mashup-Germany Edit)
DJsfm – Smells like teens Spirit (Bootleg Club Remix)
Bingo Players vs. Micaela S – Rattle (Scotty vs. Splash 30000 BPM Bootleg)
DJsfm – Seven loca rattle (Mashup-Germany Edit)
Deichkind – Bück dich hoch (Cassey Bückt sich Bootleg – Mashup-Germany Edit)
R.I.P. feat. Aretha Franklin & Lil Jon – Respect (RLP's Everybody Remix)
Dizzee Mozart – Eine kleine Big Bootie Bonkers (DJfMs Allegro Rmx)
Mashup-Germany – Numb Encore 2012
Mashup-Germany – Starships Dance Floor Porn
The Tokens – The Lion Sleeps Tonight (Pussy Shaking Bootleg)
Mashup-Germany – Rhythm is Kuduro's Saxobeat (Less Saxobeat – more harmony Revisit)
Mash Mike – Danza Frog Kuduro
Mashup-Germany – Hit and drop on all the single ladies
Mashup-Germany – Got 2 luv Michel Telo
Mashup-Germany – Revolution Jump
Wick-it the Instigator Dr. Dre – Still California (Wick-it Moombahton Remix)
Drop Goblin – Make Yur Head Bounce (DJ Schmolli Hands Re-Edit – Moombahcuts)
Modjo – Lady 1.3 (Ackeejuice Rockers Remix) [DJ Schmolli Moombahcuts]
Ray! – Good Thymes (Opiuo Remixx)
Mashup-Germany – Without black or white
Mashup-Germany – I'm gonna make you sweat
Mashup-Germany – Believe in your best levels
DJs from Mars – Where dem levels at [Mashup-Germany Reedit]
DJs from Mars – Who's that Knass [Mashup-Germany Reedit]
Alesso – ID (Project 46 You Edit)
Yves Larock – Bucovina (Alex Astero Club Bootleg) (Mashup-Germany Edit)
Bingo Players – When I dip (BCs Samba de Janeiro Bootleg) (Mashup-Germany Edit)
Gotye – Somebody that I used to know (LARZtag Bootleg Remix) (Mashup-Germany Edit)
Mashup-Germany – Paradise (Infinity and you know it)
Axel Bauer & Lanford – One Lambada
Mashup-Germany – Lambada Joe
Mashup-Germany – Danza Lambada
Tetris – Theme (Bootleg)
Kernkraft 400 – Zombie Nation (Son!k Bootleg)
Andrew G – Give me the happy tiger
Mashup-Germany – Happy Dezibel Violence
Eiffel 65 – Blue (Jerry Rekonius 2011 Bootleg)
Bloodhound Gang – The Bad touch 2011 (J-Soza & [MaRKoBie] Touch Fuck Reboot)
Bloodhound Gang – The Bad touch 2011 (GGB Bootleg)
RHCP – Otherside (Third Party Bootleg)
Taio Cruz – Hangover (Mavi Mashup)
Mashup-Germany – Bad Hangover touch
Far East Purple – Smoke on the G5 (DJsfm Mashup)
Daft Punk – Aerodynamic (Nicky Romero Bootleg)
Asian Trash Boy – AerBeetroots
Andrew Spencer and The Vamprockerz – Zombie 2k10 (DJsfm Remix)
Eddy Hard – Put your Hands up (Bootleg Remix)
Ludachrist – Pon de Foley
DJsfm – Whatcha play (Mashup-Germany Edit)
DJsfm – Show me in the deep (Mashup-Germany Edit)
Pitbull – Hotel Room (Nightcrawlers Bootleg)
Nightcrawlers – The feeling on (Andrey Zenkoff 2011 Mix)
DJ Dumpz – Everybody has no limit (Mashup-Germany Edit)
Rihanna – We found love (Chuckie Remix)
Mashup-Germany – Leveled without you
DJsfm – Fade into someone like you
Mashup-Germany – I'm glad you came
Mashup-Germany – Top of the Pops 2011